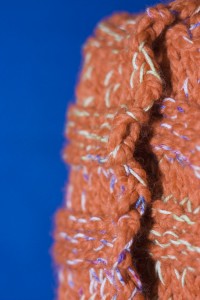 We've had a houseful of love for the past couple of weeks and we will for nearly a month into the future. Don't get me wrong – that is the way I like my life – full of people and making constant memories. Really everyday feels like a special day – yesterday we decorated our tree – two days before we went and chopped it down. Even a venture to the mall (a place I detest) was fun with Simon and Gus – they got to see Santa and I got a couple of gifts while we were there. Everyday brings something new and exciting and it seems to fly by. The time I get to spend knitting isn't always guaranteed, but whenever I have idle hands I pick up my needles. I tend to have several projects going at once…so I can always just take 5 minutes and accomplish something – a row or two on a blanket I've been working on for my baby niece – due in a week, a row on the Birthdaymas hat for my dad, a quick scarf for a sweet friend's birthday (I can make one of those during a movie if I really set my mind to it) and I use super chunky yarn.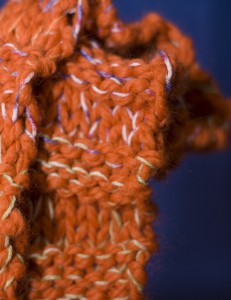 Amy took these photos – so I can't take credit for their fabulousness. But, the orange scarf, I suppose I can take credit for. She and I took a photography class near the beginning of the year and you can see she's got some talent just from these two photos. This scarf was a 'whip it up quick' project. I had a skein of chunky wool ease yarn that I'd picked up at Michael's or Joann's at some point – benefit to this yarn is that you can wash it and you don't need to worry. To give it a bit of flare I knitted it on my size 15 metal needles and threw in some variegated sock yarn. I have a bundle of balls of sock yarn that I'm hanging on to for when I finally finish that first sock and get sock crazed. Not sure why I ever did a blog post about it, because now I have to finish it at some point, but I'm thinking about taking another class in the new year…that will motivate me to master the art of knitting socks. Some of that variegated Deborah Norville sock yarn is beautiful though so I've been tempted to throw it into a hat before as well. It is 50% superwash merino wool and 25% bamboo 25% nylon. It is really soft and also machine washable. I really love it and I'm sure I'd love it on my feet, but I also love it mixed into this scarf.
I decided I'd knit two rows and purl one row which gave this scarf the ribbed look it ended up with. I don't have a pattern, I just made one up. I cast on 14 stitches to start and then just rolled with it. When I start a scarf, randomly, I just pull it apart near the beginning if I don't care for the pattern I've created. So there you have it – a scarf.
So many gifts I want to make – so little time. Every 5 minutes spent knitting counts.