This little nugget entered our world on January 20, 2013. I love him.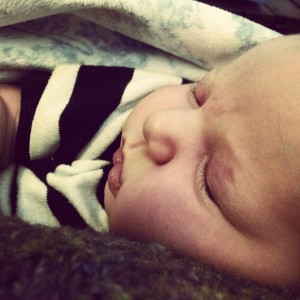 P.S. He isn't my baby, he is my nephew, Roman Bryce Hickey.
He waited to arrive until the very day I finished putting the button eyes on his gift (surely that is what he was waiting for).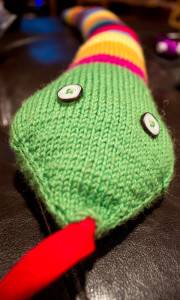 I got this pattern from a book I needed to have, when I saw this very snake, on the cover. It didn't call for the same yarn I used, but I had some 220 Superwash made by Cascade Yarns on hand (in a rainbow of colors) and figured it would be just as fabulous. It was.
[phpzon asin="158180900X" country="US" trackingid="mamalovesknitting-20″ templatename="asin"]
I followed the pattern exactly to shape the head and the end of the snake but lost track a lot in the middle stripe section. I knit on size 5 or 6 dpns although I could've just used regular knitting needles, since I wasn't knitting in circles. I was thinking I'd like to knit in the round but I ended up just stitching it closed, as the pattern stated.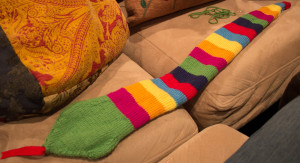 Here is the finished 'bod' and I was already pretty in love with it. He was all one piece so I just had to stitch his belly closed. He was a pretty simple project. I love knitting toys, especially striped toys.


long as my leg
Lexie had called me to let me know she was in labor, so I made sure I had my necessities packed (in my doula bag) before I headed off to bed. I was in bed for about 5 minutes before I got the call to head to their house. It made me happy I was going to be able to bring this fella along with me.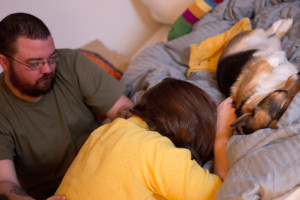 Notice the snake protecting the corgi, Papa and that badass laboring Mama.
I think Boo Boo was happy too. The snake for baby Roman was a good morning distraction (for a big sis) at 7am when she woke up to a laboring Mama.