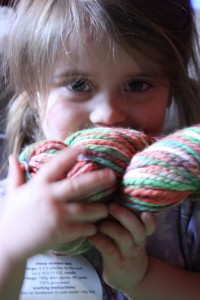 I have another special special person in my life that was the recipient of a knit birthday hat, and don't you worry I stuck to that 'oh so familiar ribbed pattern' that I so do love. I couldn't ever tell you the exactness of it, I pretty much wing it every time, but I find myself looking back on this here blog to remember how many stitches to cast on. This time for a 4 year old I cast on 60 stitches. The requirement is that the number of stitches be a multiple of 4 for the pattern to work. I've finally come to this conclusion after a year 1/2 of knitting pretty much the same hat 25 times.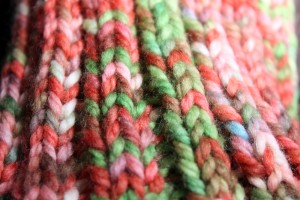 I decided tiny Beeser needed a pom pom atop the knit goodness. This is the perfect way to use up the last little bit of your skein of yarn. Sometimes these particular hats are hard for me to give away, but it is usually just because of the yarn I use and how cozy it is. I just want to wear it, I probably ought to make one for myself. Edie chose this yarn out of my stash a year ago, and it is right at the very top of my list. I heart it! I could make this hat a billion times and never get tired of making it, especially with a good movie in my face, or this time – an airplane ride to New Orleans from Montana. I finished it up by the time we arrived, with the exception of the finishing work because I didn't have a needle or a crochet hook to hide my ends.
I used Sheep Shop Yarn (100% wool) which I need to stock up on because I LOVE it. Another thing I was without was a pair of scissors. Anyone have tips for that on the plane? Here is what I did, and do fairly frequently…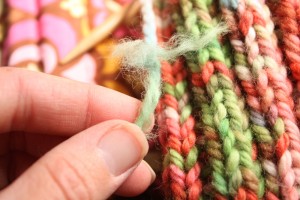 I just fray the yarn until I can snap it off. It doesn't make for very pretty pieces hanging off but it gets the job done. You hide those pieces anyway…so what difference does it make. My husband suggested on our last flight that I use the seatbelt – he's so smart.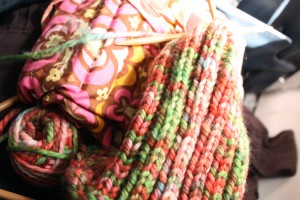 One thing that did surprise me about knitting on a plane is you can bring whatever knitting needles you want to – no problem. I was surprised when I brought my gigantic size 13 metal needles, no probs. Just in case I tend to bring the whole lot of them. Thanks to my sister I have a handy place to keep them all and roll them up for transport.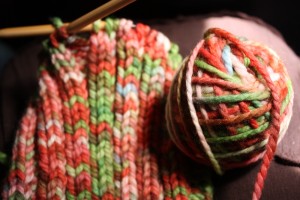 Here is one more sweet photo of Edie that I took only a couple of weeks ago – she is my littlest son's bestest friend. Two peas they are.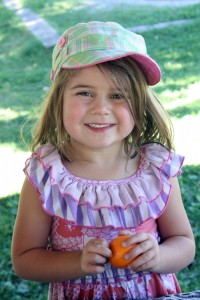 Her Mama promised me photos of her wearing her new hat so just as soon as I get my mitts on those I will put them up on our facebook page.