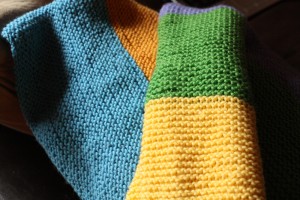 And her auntie FINALLY got her blankie done. Sheesh.
I suppose this post will be more a photo gallery than anything else. This is what Sloane looks like today, she's not much of a newbie anymore, but at least she's not 5.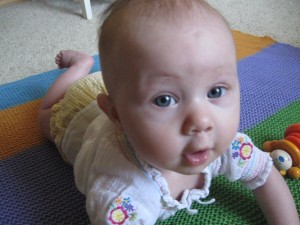 So the time line goes a little something like this…
Sloane came into our big world on January 3rd and this is about where I was in the garter stitch process when her Mama Lexie went into labor. You'll notice in the final product there are a couple of crocheted hearts in the purple section that has some special meaning. You see, I had the very special privilege of being Lexie and Colin's birth doula and of course I brought my knitting along. I always do, and good thing I did, it was a long one.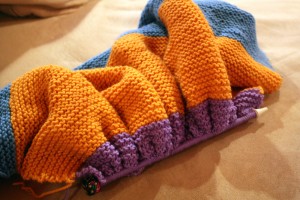 I dropped my stitches a few times during Lexie's labor. A couple of them got flipped over and unfortunately my yarn selection isn't terribly forgiving. I used 100% Superwash Wool made by Cascade Yarns. If you want to see the very beginning of this process (only the blue yarn and a sweet pregnant belly) feel free to go back in time.
This was our first Ladies night (with our newest lady) at Sloane's abode. New Mama Lexie, Auntie Sarah, Sloane, Mia (the big sister) and I. We did some knitting, crocheting, baby snuggling/smelling and celebrated with a bottle of wine.
I think I did something like 140+ stitches across each and every row and it wasn't a quick knit. It was definitely worth it though for the sweetest little peach.
I drank a lot of martinis and watched a lot of movies during the long winter while working on this project.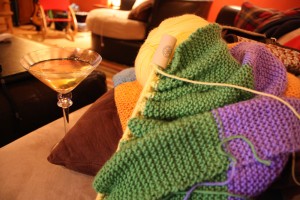 I knit while I babysat my sweet little 2 month old niece. She spent a lot of time around her 'work in progress'.
Some of it awake, much of it asleep.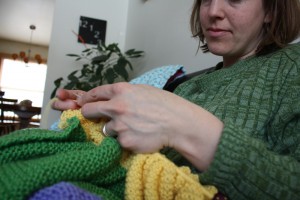 Getting bigger by the day. Both of them.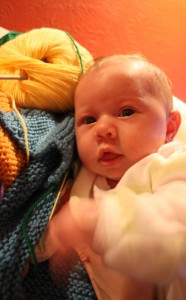 Shiny needles, must get them.
Until we just had the finishing touches. The finishing touches were no quick task. I crocheted 4 hearts and stitched them on both sides of the blanket to cover the contraction bumps. The knitting would fall off of my needles every once in a while when I was needed to hold hair back, massage Lexie's back or legs or cover her with a blanket or cool her with a damp cloth, or sway back and forth in the living room. Or lay on the bed in the bedroom beside her. I couldn't predict when the timing was good to start another row of purple. I 'purpled' through the entire labor. And I lost my work a lot! It showed the most in these two spots, so I decided how fitting to put some hearts there. To make those flaws have a bit more meaning, well, and to hide them.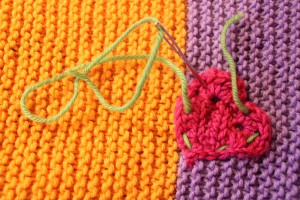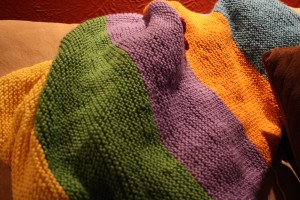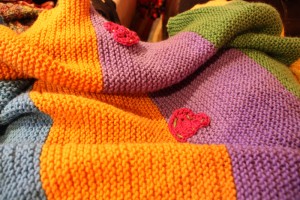 I think Sloane likes her blanket and it is nice and big and I envision her on it in the backyard on the grass…so spring better start heating up! Mama Lexie took some sweet photos of the wee one and her big puppy sister Mia and her new blankie, and holy smokes, it is all adorable.