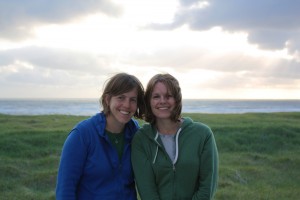 The beach was amazing! We were right on Pacific Ocean in Ocean Park, WA and it was gorgeous. We met my dearest friend Nicole and her family. We stayed at their family beach house *right* on the beach, LUCKY! I mentioned in my last post that I had my knitting all packed up and of course I completely forgot to actually put it in the car, so packed or not, did me no good.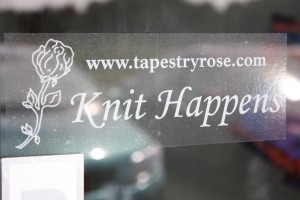 The craziest thing happened when I missed a turn about a 1/4 mile from the beach house and my husband noticed a little cafe that was in the same building as a yarn shop. What are the odds? We ended up enjoying some delicious breakfast at the cafe one of the mornings we were there and of course…yarn time!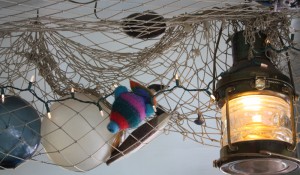 The decor at the Full Circle Cafe was pretty adorable. There were felted fish hanging from the ceiling along with other pretty things – beach related – and seriously the food was incredible!
We enjoyed our breakfast and the kids and my husband headed back to the beach house while I did a little bit of yarn browsing/shopping. Of course I'd forgotten needles as well, so I had to indulge in a new pair (or two or three). Someone locally made these adorable needles with a pair of dice on the ends, so I had to snag those up and I was leaning toward a quick and easy project that I could complete in the sand on a blanket while my kids made castles and waded and my husband strummed his ukulele.
I ended up deciding on the Cascade cotton yarn so I could make little beach hats for the babes. It was a bit of a stretch for me purchasing something other than wool but it made more sense for the season to get cotton yarn. This yarn can stretch too, that little ball goes a long way and it is very user friendly. Oh, and I threw in a hank of Cascade wool too. That wool will knit something sweet and maybe I'll even felt it. I understand this Cascade yarn is wonderful yarn for felting.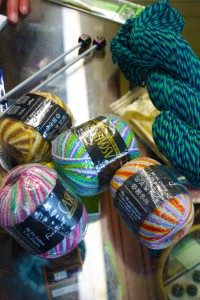 In case you aren't aware of the temperature on the beach on the West coast, it's cold. We got so lucky and had beautiful weather everyday, but one, but it was still chilly. Windy and hat-worthy for sure. So I started on little Clara's hat. Oh my gosh I finally got to meet little Clara. She's a peach!

This was right outside of Tapestry Rose and I walked right along this beautiful coast from the yarn shop back to the beach house. Ahhhh! There is something very magical about the ocean.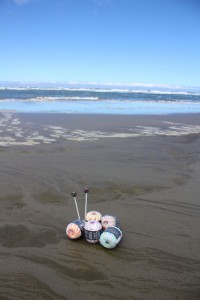 And something even more magical about my new knitting supplies purchased right on the beach.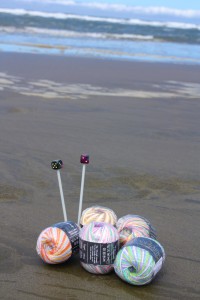 Look at those cute little dice needles and of course the variegated cotton wonders. I got myself another pair of circular needles and I was just crossing my fingers hoping I didn't have size 5 already.

Meet Gary – he and his wife Colleen own Tapestry Rose. I was happy to meet him and find yarn right on the beach. One of the more perfect vacations of my life. Best friends, really relaxing, and my kids love sand and sea!
Happy Knitting!