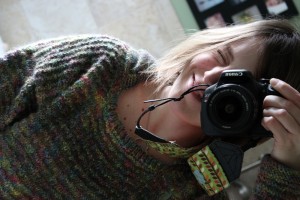 I did it! I finished my sweater – in one year – but it is finished none-the-less. I will probably wear it every single day for a year now. It is cozy and warm. It isn't without a flaw here and there, like the entire hood is completely inside out, but with the addition of a pom-pom it looks perfectly adorable, in my opinion, and then no do-overs required.
Before I forget there is a link I've been meaning to share. Picking up stitches can be tricky and each time I have to do it I realize I've completely forgotten how to do it, this video perfectly lays it out (for me). The photos above are when I was working on picking up stitches for my sleeves. I had to do it again when I was working on my hood and finishing up the collar. I am not going to lie to you, I'm pretty into the finished product.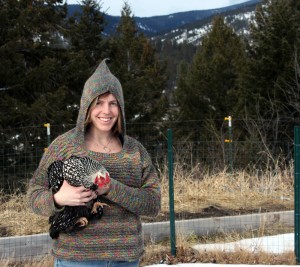 So I did end up finishing the hood later with a pom-pom and I love it so much more, but I love the elf effect it has on me.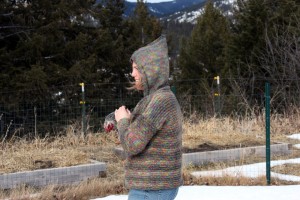 I couldn't comfortably stand in the yard while Shane took some pictures of me, I'm far to shy for that, so I grabbed my chicken to keep me company. Meet Octopus Pie – named after Gussy's pronunciation of Optimus Prime as a tyke.
So the hood, I flipped it so you could see the side that is (I think) actually supposed to be the visible part. I honestly like the way it looks though. Others may not be into the "character" (that is what I'll be calling it from here on out).
The pattern for this sweater I found on Ravelry and it is called the Weekend Hoodie. You can see my progress if you look back at this post and this post. And I don't honestly think there is much else to say. I'm beaming – and now for a few more photos…and I'm out (wearing my sweater of course).
Happy Knits!